Garden Cabins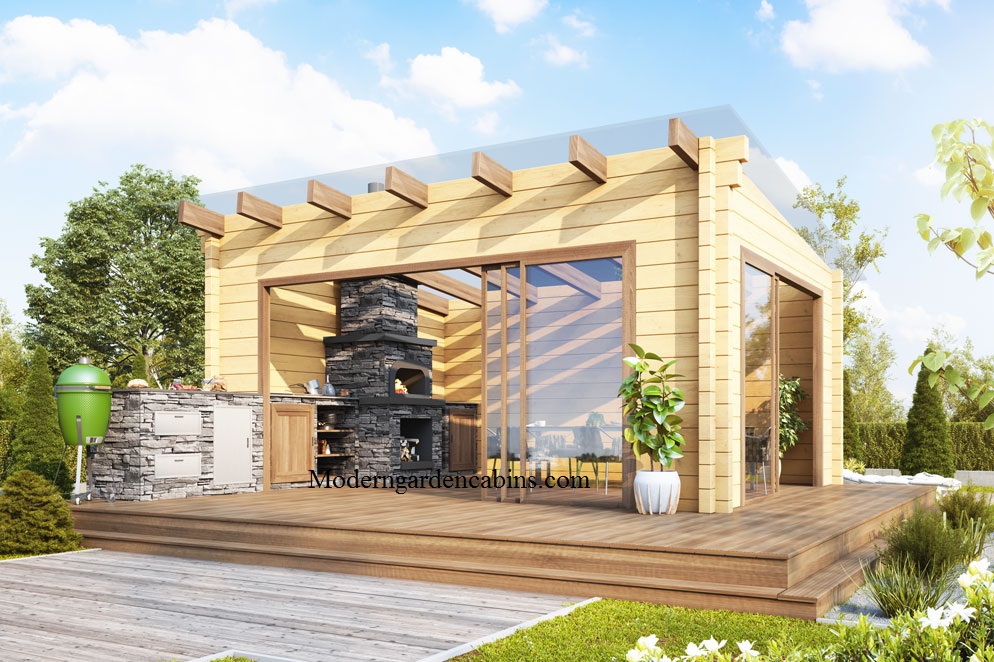 Cabin prices start at € 7,000
Cabin size 30 sq. M.
Dining area 17 m²
Teracce 14 m²
Standard model is made in 92 mm. thickness square logs and it can be delivered in flat-packs.
Standard kit includes: 92 mm. log walls, green-treated base frame and 28 mm. floorboards / decking, double glazed wooden windows and doors, 18 mm. ceiling boards, bitumen shingle roof, trimmings etc.
It is possible to build it blocks, pillars or any type of foundation. However, concrete slab is recommended.
This cabin can be ordered in different log thickness

Garden cabin made for fine dining.
Indoors we have a large wood-fired oven that can be used like a classic fireplace that heats up the room.
When the fire is burning, you can grill on the charcoal and use it as a classic pizza oven.
When the fire has burn usually about 3 hours and using 12 kg of wood the oven is fully heated and stays warm about 12 hours.
Then you can cook bake or use it for cooking long time low temperature meat.
Nice look and food tastes even better
Outdoors we have the Big Green Egg.
Its the only outdoor ceramic kamado style charcoal grill you will ever need.
The best grill ever.Its a grill and a oven or a smoker.You will get nowhere without passion. Our goal is to inspire as many people as possible, and let them enjoy the pure and honest flavours.
All the furniture  is made with climate lasting materials.Usually for finishing we use natural or decorative stones made from portland cement that will last the summer heat and the winter could.Shelves made of brushed granite and drawers made of stainless steel.
Roofing options for the cabin.
Class Polycarbonate or Bitumen
The sliding doors provided by us protect your shelter from wind and rain. Aluminum profiles are designed for use over the years. Nylon wheels in the bottom profile are camps and do not require maintenance. The side profiles are equipped with a hair seal which silences noise and ensures dust and water resistance.  The coating is a natural anodizing, white or brown. Other colors can be painted according to the wishes of powder colors, based on the RAL catalog. Glasses can be selected either in tempered or laminated glass windows, matt glass, and in different colors between tinted glasses. A 5 mm or 6 mm thick single glass and 3 + 3 laminated glass can be used. The glass can be opened on both sides. Locking on both sides. Side half stopper and outside the side of the butterfly lock key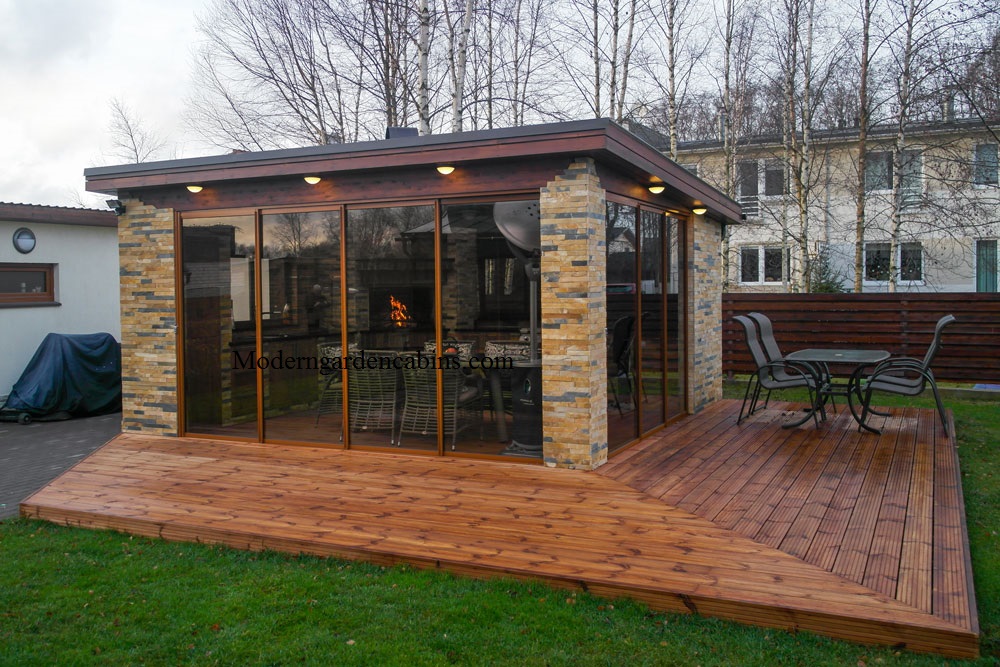 Cabyn floor and terrace can be made of thermo treated decking boards.
Thermory decking boards have been achieved by intense modification. Thermotreatment adds durability and makes wood immune to the effects of the external environment and significantly improves the resistance of the mold to mold and rot. We offer egg oak and ash.
Factory located in Estonia. Estonianlogcabins.com